2007 What was
By Madhushala Senaratne and Tahnee Hopman
Looking back on yet another year, there is little to smile about with even the few positive moments being overshadowed by conflict, death and destruction. As 2008 approaches, we can only hope that the New Year brings some joy and solace to a country haunted by increasing violence and burdened by the soaring cost of living.
January
6: Around 15 people are killed and more than 40 injured in an explosion on a bus at Godagama near Hikkaduwa. UNP Leader Ranil Wickremesinghe declares that the Memorandum of Understanding between his party and the ruling SLFP may be annulled in the wake of a Cabinet decision to allow crossovers from the UNP.
12: In the worst landslides in 15 years, around 18 people die, 15 go missing, 1,500 houses are destroyed and more than 100,000 are displaced in the Walapane, Hanguranketa and Maturata areas.
Across the country, heavy rains result in widespread flooding A?a??a?? Hambantota district being badly-hit.
19: After weeks of heavy fighting, security forces secure Vakarai town, a crucial gain, and advance north. More than 300 LTTE fighters and 50 security forces personnel are killed. Thousands of civilians flee to government-controlled areas.
27: The navy thwarts an attack on the Colombo port, when it intercepts and destroys three suspected LTTE suicide boats.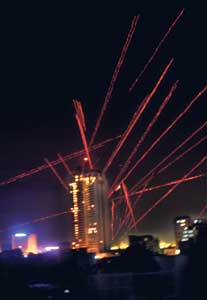 The Sunday Times photographer M.A. Pushpa Kumara captured this scene when Colombo's night sky was set alight by anti-aircraft gunfire when two LTTE light aircraft hovered over the city and suburbs on April 29
February
9: President Mahinda Rajapaksa sacks three of his senior Ministers — Mangala Samaraweera (Ports and Aviation), Anura Bandaranaike (National Heritage) and Sripathi Sooriyarachchi (Port Development – non-Cabinet rank).
March
2: Five bullet-riddled bodies with faces disfigured and blindfolded are found in a swamp in Kandana.
10: The bodies of eight people, including the Anuradhapura Area Commander of the Army, Jayantha Suraweera, are recovered at the Wilpattu National Park.
April
1: Six labourers are killed at Mailambavani, Batticaloa, and hours later, 16 civilians and a soldier fall victim to a bus bomb blast at Kondawatturan, Ampara.
7: Seven including two children are killed when a state-run passenger bus is hit by a powerful claymore mine at Pirimanalankulam in Vavuniya.
10: In a horrific accident which shocked the country, 23 people die and more than 50 suffer injuries when a beer delivery truck crashes into a CTB bus at Kaikawala, close to Bentota.
29: A total blackout is imposed on the city of Colombo shortly after midnight as two Tiger rebel aircraft hover over the area. The craft drop bombs on a fuel dump of the CPC oil installations at Kolonnawa and an LPG gas facility in Muthurajawela. The LTTE air attack comes as Sri Lankans are glued to their TVs watching the World Cup cricket finals in Barbados, with Sri Lanka taking on Australia. Rain dampened the match with Australia winning the World Cup.
May
6: Former President Chandrika Bandaranaike Kumaratunga's security is slashed on a Supreme Court ruling.
18: Two small children and three other members of one family are hacked to death in their sleep, over a land dispute, in Meegahawatte, Delgoda. A 12-year-old girl who is critically injured is the sole survivor.
27: The de-merged Northern and Eastern Provinces get new flags. The Eastern Province flag depicts an eagle, a fish and a lion, signifying Trincomalee, Batticaloa and Ampara respectively while the Northern Province flag depicts the sun.
28: A claymore blast in Ratmalana kills eight and injures 30. The mine had been kept on the roof of a video shop at Belekkade junction.
June
1: A lorry laden with explosives weighing around 1,000 kilograms A?a??a?? is detected at a road block at Kotavehera, Nikaweratiya.
7: More than 300 Tamils are evicted from lodges in Colombo amidst strong protests and condemnation not only by human rights groups but also the international community.
8: Nine bodies of people killed, with their eyes blindfolded and hands tied behind their backs, are found at Wennappuwa.
9: Following a spate of abductions, ransom demands and killings, the Criminal Investigation Department questions a former Air Force Squadron Leader Nishantha Gajanayaka.
16: Sri Lankan Rizana Nafeek (19) is sentenced to death by a Saudi Arabian court after an infant she was bottle-feeding chokes. Rizana who was from Mutur had gone to Saudi Arabia in May 2005 at the age of 17 giving a false age on her passport. The appeal against the death sentence is pending.
29: 'The Buddhist', the first Buddhist TV channel in Sri Lanka is launched and goes on the air.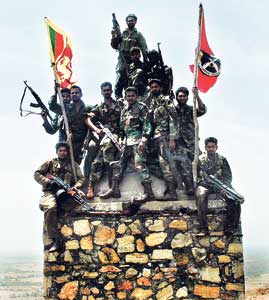 Troops celebrate the fall of Thoppigala, the last eastern stronghold of the LTTE, on July 11
July
11: The army captures Thoppigala, the last eastern stronghold of the LTTE, bringing the entire Eastern Province under government control in 14 years. The military claims that at least 211 LTTE cadres were killed.
August
1: The CWC resigns from the government and Leader Arumugam Thondaman gives up his ministerial portfolio.
9: The government expresses concern in Parliament over the statement of UN Humanitarian Affairs Chief John Holmes who in an interview with Reuters described Sri Lanka as one of the most dangerous places for aid workers.
12: Former Attorney General K.C. Kamalasabayson passes away while receiving treatment at Apollo Hospital in Chennai, South India. He is 58.
September
7: A new system for Grade 1 admissions to state schools is approved by the Supreme Court.
10: Malaka Silva, son of non-cabinet minister Mervyn Silva, who is alleged to have hit an accountant of a private firm with a pistol, is remanded.
October
5: Several high-rise buildings in Colombo are asked to switch off their exterior lights and key locations including the Colombo Port, the Bandaranaike International Airport and the Shell Gas facility in Kerawalapitiya are put on full alert after the sighting of two suspected LTTE light aircraft in Tantirimale near Anuradhapura.
11: The CWC rejoins the government with Leader Arumugam Thondaman regaining his portfolio.
14: Just as UN Human Rights Commissioner Louise Arbour concludes her fact-finding mission to Sri Lanka, four of the 10 civil society members (part of an advisory committee set up to address human rights concerns) resign from the panel citing differences with the government. Earlier, Arbour and Disaster Management and Human Rights Minister Mahinda Samarasinghe differed strongly on the need for UN monitors in Sri Lanka.

The Anuradhapura Air Force base after the Black Tiger attack on October 22
Sri Lanka's sprint queen Susanthika Jayasinghe is in line for a gold and a silver for her performance at the World Athletic Championships in Athens, Greece, and the Olympics in Sydney, Australia, respectively both in 2000, with Marion Jones due to be stripped of her medals after admitting the usage of steroids.
15: The LTTE launches an attack on an army detachment at Thalgasmankada in Yala, killing six soldiers and injuring three. A massive military search operation is carried out. The National Park is closed to visitors.
18: Malaka Silva, son of non-cabinet minister Mervyn Silva, allegedly involved in an assault case is released on bail.
22: Several aircraft are destroyed or damaged when the LTTE's Black Tiger unit attacks the Anuradhapura Air Force base.
25: The Manampitiya Peace Bridge, Sri Lanka's longest bridge built across the Mahaweli linking the Northern and Eastern Provinces is opened by President Mahinda Rajapaksa.
26: The government suspends the licence of the Asia Broadcasting Corporation (ABC) for allegedly misreporting an incident at Ranminithenna in Tissamaharama.
November
1: The Supreme Court dismisses the application filed by ABC challenging the licence cancellation by the government
2: LTTE political head S. P. Thamilselvan is killed in an Air Force raid over Kilinochchi. Five LTTE military wing leaders are also killed in the attack. Thamilselvan was the LTTE's chief negotiator at peace talks with successive governments.
Vinayagamoorthy Muralitharan alias Karuna is arrested in London for travelling under a forged passport.
More than 100 Sri Lankan soldiers serving with the UN peacekeeping mission in Haiti (Minustah) are accused of sexual exploitation and abuse including the rape of children.
7: The budget offers little relief to the public already affected by the soaring cost of living.
9: The Supreme Court issues a significant directive on noise pollution, banning the use of loudspeakers or any other amplifiers from 10 p.m. to 6 a.m.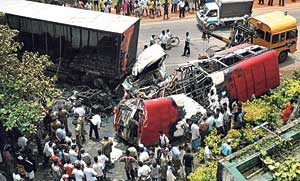 The scene after a beer delivery truck crashed into a CTB bus at Kaikawala on April 10
12: A 22-year-old garment factory worker, Chamila Dissanayake, who had sought treatment at the Negombo Hospital, is found with critical injuries on a pathway close to the hospital. Police investigations indicate she had allegedly been pushed from the sixth floor by a doctor. Chamila dies while being taken to the National Hospital.
15: The United States freezes the US held assets of the Tamil Rehabilitation Organization (TRO), that acts as a front to facilitate fundraising and procurement for the LTTE.
17: Elina Jayewardene, widow of the first Executive President of Sri Lanka, J.R. Jayewardene passes away at the age of 94.
19: After weeks of speculation and tension that the government will not be able to get a majority and also crossovers, the second reading of the 2008 budget is passed in Parliament. The JVP votes against the budget.
21: The printing press of Leader Publications, which publishes the Sunday Leader, the Morning Leader and the Irudina, in Ratmalana comes under an arson attack.
29: Steven Peiris, Coordinating Secretary to Social Services Minister and EPDP Leader Douglas Devananda, is killed in a suicide bomb attack at the ministry office at Isipathana Road, Colombo 5. Two others are injured. For the first time, the attack is captured on CCTV and is possibly the only live pictures of a suicide bomber blowing herself up.
In the evening, like a sequel to a bloody story, 20 people are killed and 43 injured when a bomb left at the parcel counter at the Nugegoda NoLimit explodes.
December
3: Muttiah Muralitharan breaks the record for the highest number of Test wickets reaching 709, when he dismisses England one-day captain Paul Collingwood during the third day of the first Test match at Asgiriya, Kandy. This match is also the last Test match of veteran cricketer, Sanath Jayasuriya who retires from Test cricket.
5: Fifteen civilians are killed and 23 injured when a powerful claymore mine blows up a CTB bus on the Anuradhapura-Janakapura Road close to Kebithigo-llewa.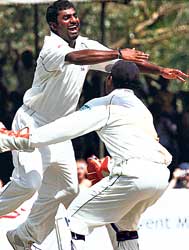 Spin wizard Muttiah Muralitharan celebrates with wicket keeper Prasanna Jayawardene as he breaks the record for the highest number of Test wickets reaching 709.
8: In keeping with a Supreme Court ruling, permanent security checkpoints in and around Colombo are abandoned. The ruling that permanent checkpoints are illegal was issued after a motorist filed an application that he was harassed and unlawfully detained by police officers at Kirulapone.
10: On World Human Rights Day, several media organizations, civil society groups and trade unions march to the Media Ministry and hand over a petition demanding immediate action to curb increasing violence against journalists.
12: SLMC politicians including Leader Rauff Hakeem cross over to the opposition.
14: Foiling UNP plans to defeat the government, the third reading of the budget is passed with 114 voting for and 67 against. A while before the crucial vote, National Heritage Minister Anura Bandaranaike crosses over to the opposition but leaves Parliament just before voting. The JVP abstains from voting.
19: A newborn baby boy goes missing from the Kalubowila Hospital and is believed to have been stolen by a woman who had offered to look after him while his mother was having a bath. The baby is found by the Kohuwela Police in a house in Thalapathpitiya on December 24. However, another couple who lost their baby son in November from their home is still searching for him.
SriLankan Airlines CEO Peter Hill's work permit is cancelled by the Board of Investment on the grounds that he failed to comply with a request from the main shareholder of the national carrier, the government. The request was for 36 seats from London to Colombo for the President and his entourage.
Flash floods and heavy rains in the Eastern, Central and North Central Provincesleave over 200,000 people homeless.
26: As the third anniversary of the devastating 2004 tsunami comes round, it is revealed that only US$ 1.7 billion of the US$ 3.1 billion pledged by foreign donors has been received and rehabilitation work is delayed.
27: Tension mounts at the state-owned Sri Lanka Rupavahini Corporation when Deputy Minister of Labour Relations and Foreign Employment Mervyn Silva and his bodyguards allegedly assault the News Director for not telecasting a speech made by him. When the staff attempts to retaliate, the Deputy Minister takes refuge in the Chairman's office, until he is taken away under police protection.
source:
http://www.sundaytimes.lk/071230/Plus/plus00011.html