Thousands of Victims still stranded 3 years after catastrophe
By Madhushala Senaratne
As Sri Lanka marks the third anniversary of the catastrophic 2004 tsunami, it has come to light that only US$ 1.7 billion of the US$ 3.1 billion pledged by foreign donors has been received. As a result of the shortage of funds and other reasons, thousands are still living in makeshift camps while rehabilitation work has been delayed.
According to Nation Building Ministry figures, there was a shortfall of US dollars 1.4 billion as against the money pledged for tsunami rehabilitation and related projects. Some of the agencies and governments had disbursed almost all the funds they pledged or were on the verge of keeping to their commitments, but others were lagging far behind. The money was pledged from more than 480 organisations.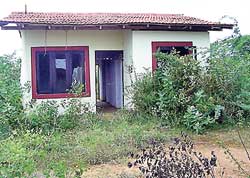 An abandoned house at a tsunami housing scheme in the south.
Of its total commitment of US$ 150 million, the World Bank had disbursed US$ 142 million while the UNICEF had dispersed its full commitment of US$ 42. 3 million. The USAID which had committed $ 115 million had disbursed $ 68 million. NORAD which pledged $ 1.2 million had disbursed $ 607,992.
At least 19,791 housing units still remain to be completed for those hit by the tsunami while in some cases there were people who received more than two houses due to uncoordinated distribution. A?a??A?Of the estimated 117,483 houses required, 85% of the work has been completed while the remaining would be completed by end of June next year,A?a??A? the ministryA?a??a??s tsunami housing projects director, Ramesh Selliah said.
Although 100% of the work has been completed in the Southern province, about 88% has been completed in the East, Mr. Selliah said. He said thousands were still living in temporary camps and were reluctant to move. He said the construction of houses in the northern and eastern areas was slower mainly due to the fighting in the areas.
BatticaloaA?a??a??s Additional District Secretary K. Mahesan, said reconstruction work in areas such as Vakarai was put on hold due to heavy fighting in the region and the subsequent displacement of thousands of civilians worsened the situation. A?a??A?However, over 90% of the required houses in the Batticaloa district have been completedA?a??A?, he said. In addition, much of the work in Ampara has also been completed.
However, maintaining an estimate cost for a house is becoming increasingly difficult with the rise in prices of materials such as cement, according to Sritharan Sylvester, Director of Caritas which handles human and economic development issues in the East. Limited funds, donors moving out of the East and the rainy season were adding to their woes, he said. In President Mahinda RajapaksaA?a??a??s homebase of Hambantota a total of 6,391 houses have been rebuilt and families resettled. This is in excess of the 3193 houses that were directly affected or damaged. A?a??A?The houses built in excess are now occupied by the indirectly affected people such as renters, sub families and extended families,A?a??A? Hambantota District Secretariat tsunami work chief Mahinda Manawadu, said.
But, some of the housing projects have been completed halfway and abandoned. The construction of 200 houses in Ichallampattu in Trincomalee undertaken by World Vision Lanka was stopped due to the conflict in the area. However, its National Director Yu Hwa Li said that they would resume work once stability is restored in the area.Meanwhile, a senior official of the Tsunami Education Rehabilitation Monitor (TERM) said that of the 183 schools identified as directly damaged, 100 have been rebuild so far. Work on the rebuilding of some 40 schools in the Jaffna, Mullaitivu, Kilinochchi, Trincomalee and Batticaloa has been put on hold due to security reasons while the work on the remaining 40 schools is to be finished next year, he said.
Certain projects implemented by the Japanese government in the East had also been delayed due to the prevailing security conditions. A?a??A?Although much of the work has been completed, including the reconstruction of Japan-Sri Lanka friendship villages in Trincomalee and Ampara, we faced many difficulties especially with regard to transportation of goods and equipment,A?a??A?, the Japanese embassyA?a??a??s second secretary Yasuhiro Watanabe said.
source:
http://www.sundaytimes.lk/071223/News/news0001.html