How much celexa does it take to get high Purchase neurontin online
Marauding jumbo claims little girlA?a??a??s life
The menacing wild elephant is today the oft talked about subject in almost every village which is close to forest areas. Hardly a day passes sans some incident involving this animal. It appears that the attempts made by the Wild Life authorities are hardly able to control this hazardous situation.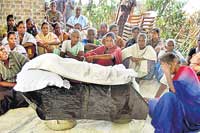 The weeping mother and villagers beside the coffin of the child.
Ampara district figures more prominently in such episodes where confrontation between man and beast is most common. The most recent incident happened last Tuesday when a two year-old girl became a victim of an elephant attack in Malwatte village in the Sammanturai area. A 12-year-old boy was also injured in the attack.
On that fateful day the two children – sister and brother – were reportedly playing in the garden oblivious to the impending danger. The animal had held the girl in its trunk and dashed the child on the ground. It had also attacked her brother before fleeing after being scared by the shouting of the people in the vicinity.
Though both victims were rushed to hospital, the little girl was dead on admission. The 12-year-old boy identified as Jesudasan Gajendran was transferred to the Ampara hospital for further treatment. The incident had scared the villagers who had watched helplessly as the animal disappeared into the jungle. They complain that the animals are now in the habit of scaring them often with their unwelcome visits at sundown. They destroy their cultivation when the harvest is near.
The villagers say if no action is taken by those responsible more lives could be lost. They earnestly request those responsible to take preventive measures before more damage is done.
source:
http://www.sundaytimes.lk/070923/News/news00022.html